Humanitarian Aid To Bulgaria
p
lease click on the link above for a printable pdf version
Bulgarian update June, 2015
We want to thank all those who contributed to the flour and oil distribution in Bulgaria. It was a great blessing to everyone involved. This year the US dollar was very strong against the Euro and we were able to feed over 2,000 needy church families. Each family received one hundred pounds of flour and over a gallon of oil. These are saved, baptized church members who attend our church meeting in Bulgaria. They thank God for the brethren in America who gave toward helping them in their time of need. Your generosity has redounded to the glory of God.
In Christ,

Rev. Mike Nixon -

Director of Charity Baptist Mission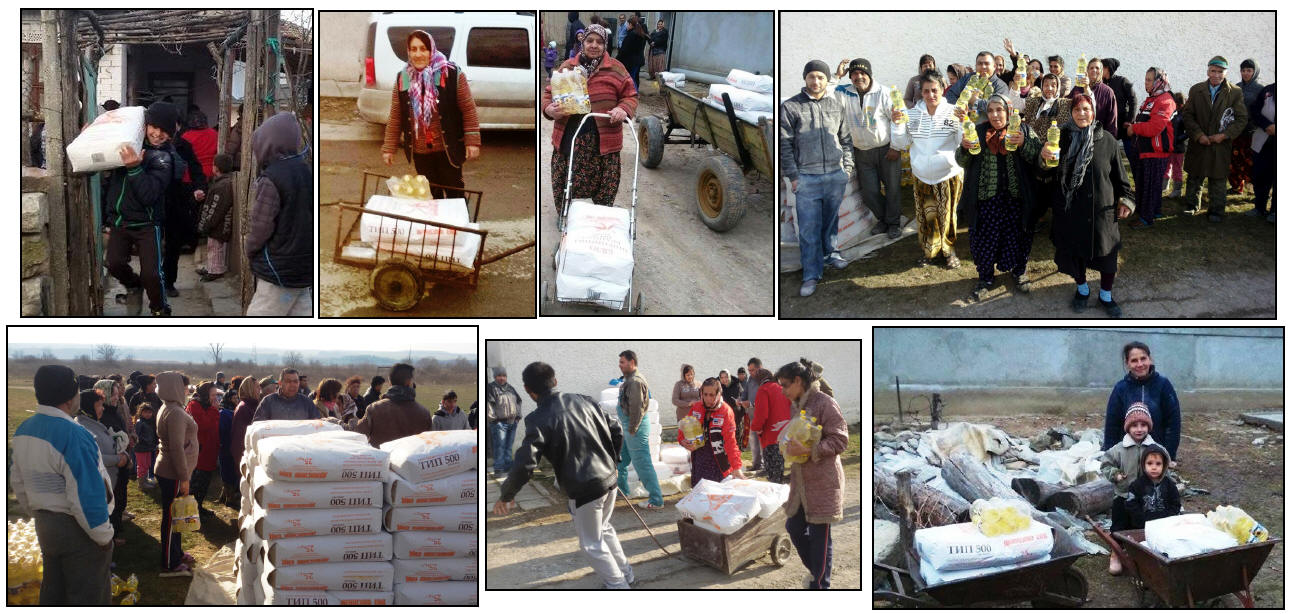 Coats for Kids - Update from Bulgaria
----------------------------------------------------------------------------------------------------------------------------
Dear Friends, 1-4-13

It was another good day working in the coats. Actually, it has been a good three days. On New Year's Eve, Larry and I went to Varna to the second-hand shop that has worked with us for the past few years. Once again, we bought them out. Brother Robert Shrader drove a full car load of coats back to our house and we put nearly that many in our car and went on to buy the socks to match. Then yesterday our family sorted and bagged all the coats, readying them for distribution.

This morning we began in our village. We needed to start early because we had a lot of villages to get to while the weather is good. Once finished here, we ran home to reload our car and to load up Brother William LeFevre's car. Together we began the trip up the mountain to villages I'd never before visited.

It was foggy and Larry was visibly concerned about the mountain drive. I became concerned myself when I saw Brother William's car slide across the ice and nearly miss an oncoming car. I prayed the sun would come out. I even asked the sun pretty please to shine and burn off the fog. The fog got worse before it got better, but it wasn't long before the sun peeked through the haze and made the journey a lot easier.

At the second village of the day, kids came a runnin'. Pastor Alish, who was riding with Brother William, called ahead to let the church folks know we were coming. They were so excited to see us. It was wild and crazy and fast, but in no time flat, nearly 50 coats were given out.

On up the mountain... the ice was still thick in patches, with walls of snow on both sides of the road in some places. Larry couldn't safely take his eye off the road, but I was able to take in the beauty of the ice, amidst the danger of it. In one place, the sun had melted a mound of snow atop a mountain peak, and then it refroze in the shape of a waterfall. I wish I had a picture to share because it was really something!

The trip to the third village was a long one. When we arrived, kids quickly gathered. But, before I could be of much help, I needed to use the restroom -- the outhouse was out back behind the house. Larry went with me in case there were dogs. I don't normally write about outhouses, but I am now because this one was particularly interesting. First, it was only about five feet tall. I'm 5'7". Second, the floor was mud. And third, there was no door. The "toilet" is just a hole in the floor. If you use your imagination, I'm sure you will be amused also. Or, maybe I'm just easily amused by such things.

Back in the house... we walked through an enclosure of sorts, used as an entryway. It had wood framing and plastic sheeting for walls. Inside the actual house, it was basic and small, but fairly comfortable. Here there were many, many children and it took all four of us (Larry, Brother William, Pastor Alish, and myself) to keep control and fit the children. And it was here that one little child pulled at my heart in such a way that I may never forget her...

She had short curly hair. She wore a light jacket that was just a tad too big. But what really stood out were her feet -- she wore tiny old sandals and no socks. I have attached a picture of her standing outside on the ice. It was taken with my cell phone, so it is not great quality, but it lets you see her pretty little face. We didn't plan it, but she ended up being the first to be fitted in that village and I got to not only put a warm coat on her, I also got to warm her feet with my hands and put a pair of socks on her icy cold feet. I wanted to hold her and warm her up, but there were many children waiting. We worked quickly and before we knew it, around another 50 children were warmed.

On to the next place... from here on out, we stopped at the homes of a few church families and fitted their kids at the car. One group of kids was giggly and so happy with anything we gave them and everything we said. They made me smile with their happy countenances.

All in all, we stopped at five villages today and gave out well over 100 coats and socks. Brother William has the remainder of coats needed for the villages he has been going to, and this concludes the second stage of distribution. We praise the Lord that things have gone so smoothly and for the short break in the weather so we could get to the mountain churches of this region. And we thank you all for your prayers.

Stay tuned for more Coats for Kids news...

Writing on behalf of Larry and myself, Carrie Leach - Bulgaria
Please click here to read about the "Coats for Kids distribution 2012"
Bulgarian 2012 food distribution:
Several weeks ago our missionaries finished the flour and oil distribution for 2012. Over 190,000 lbs of flour have been given out to many of our village churches. It has been a harsh winter for them this year which has delayed the distribution process, but the believers are very thankful for what you have given them.
Food Request
December 2011
Greetings fellow labours, We would like to inform you of an upcoming need and request your help in supplying for this work. Through your help last year, we were able to feed over 2,000 Bulgarian church families during the harsh winter. We would like to do the same this year.
A 110 lb. sack of flour and 5 liters of oil currently costs $36.25

.

With $145, you can feed four families throughout the winter.

Because of the decline of the US dollar, it will now cost $60,000 to feed about 1,600 families for the winter, but we would like to feed more. Please pray with us about these matters and believe God to supply the need. Whatever the Lord lays on your heart to do, we'll be grateful.

The Lord has abundantly blessed us this year. With great joy we would like to give you a brief update of the work in Bulgaria and Romania:

• Over 100 churches have been established in Bulgaria and Romania since 1991. During the past few years the churches have grown from around 1,500 families to about 2,000.

• In 2011 many adults professed faith in Christ and were baptized.

• Many have been saved and encouraged through our preaching and singing DVD's and CD's, one of our main evangelistic tools. Wherever our Turks travel they take the DVD's and CD's with them.

• 20 church feeding centers have been established in Romania and 18 in Bulgaria, where children and adults get one good meal per day.

• In 2002 Casa Julia Children's home was established in Romania. They are raising 11 abandoned children, giving them a safe, loving, Christian home.

• During the winter we assist our church members with food. We also help those in need with firewood. A cord of firewood costs about $180.

• "Coats for Kids" was started in 2009 by the Leach family. They distributed 1,000 winter coats, 1,000 pairs of socks and 25 pairs of shoes to the neediest children in his Bulgarian village churches.

• 8 Missionary families minister in 3 languages: Turkish, Romanian, and Bulgarian. 17 National pastors help us oversee this work. About $1,000 a month extra is needed to support these men.

We try to help each pastor offset the costs of their food and fuel (fuel is presently $7.50 a gallon). Our men look after 5-10 churches and several even more than that!

The Lord is good. He has met our needs consistently, and we are careful to give Him the praise for His loving provision, and for your obedience to His moving in your hearts.

To God be the Glory! In Christ, Rev. Mike Nixon Director of Charity Baptist Mission
In February of 1998, the first container containing 20,000 pair of socks, 3,607 pair of shoes, 972 articles of clothing, and 180 sweaters left Bristol, Tennessee, home of the Charity Baptist Mission, Inc., and headed to Bulgaria. Due to the very poor living conditions and the overall poverty of the villages where we are ministering in, we felt led to send this container.
This burden was first brought to our attention when a mission trip was planned from America. On this visit, Rev. John Geouge, Rev. Landon Rice, Rev. Ricky Bolick and Rev. Danny Black, made up the team visiting the mission work there. After a couple of days Rev. Potter contacted Rev. Geouge and asked him what he thought about the work and if they needed anything. At this time, Bro. Geouge told him that they desperately needed socks and shoes because the people were walking around shoeless and with no socks with snow on the ground. This was also in frigid temperatures. He then spoke with Bro. Landon and he was tore up because he saw a little girl bare foot in the cold weather eating a cabbage head she had picked up from the ground.
This was really the beginning of our new mission to start sending humanitarian aid to Bulgaria. Since then, we have sent three containers to this country. It is a blessing because our missionaries on the field receive the shipments and they see that those in need get these supplies.
The second containers contents were as follows: 90 boxes of Duck Head shoes, 64 boxes containing new men's, women's and children's shoes, 88 boxes of men's women's and children's socks, 19 boxes of assorted socks, 30 boxes containing winter clothing, 34 boxes of new bed linens, and 101 boxes of new clothes. This container totaled in value $150, 926.
Our last container sent just this January 2001, contained 180 ski caps, 1,349 sweaters and 7,820 blankets. This container totaled 22, 600 lbs. in weight. Altogether, with the help from surrounding churches, businesses and individuals, we have sent over 25 tons of humanitarian aid to those hurting in Bulgaria. This has been one of the greatest blessings aside from the fact that they are first receiving the precious Word of God. The ministering of the Gospel is our first priority but what a joy it is to see these receive some physical help as well as spiritual.
If you would like to help fill the next container or know someone who owns or is affiliated with a shoe company, sock or blanket factory, and clothing store we would greatly appreciate your help. All donations are tax exempt. NOTE: Due to the customs regulations and restrictions, all material must be NEW. Nothing old, worn or used can be sent due to Bulgarian law.
You can contact us at:
Charity Baptist Mission, Inc. P.O. Box 888 Bristol, Tennessee 37621
Tel. (423) 878-8131 - Fax. (423) 878-7161 E-mail: cbmission@juno.com

Additional Information From The Mission Field
27 homes in which over 1,200 children are fed daily - 19 in Bulgaria and 8 in Romania.

The cost to operate each of these homes is $200 to $400 a month, depending upon the number of children. In the near future, we hope to expand several of these homes to feed and shelter children who have no one to care for them.
We have recently purchased land in Romania where we will build a home in which we will take in unwanted babies and raise them from birth.
20,000 loaves of bread are given out each month in Romania to the poor at a cost of $3,000.
80 tons of food are distributed twice each winter to over 3,000 needy families.

This costs approximately $20,000 each time.

What we can do for $1,000 a month in Bulgaria:
Support a national pastor and his family, to care for the church in his house and
five other house churches in nearby villages $300
Feed 80 - 100 hungry children daily $400
Feed and shelter up to 20 children $300
(Home Page) ( Back To Romania) (Previous) (Humanitarian Aid For Romania)