The Reed Family

Missionaries to
Bulgaria and Romania


Sending Church:
Brookside Baptist Church
1558 Vance Tank Toad
Bristol, TN 37620

Please Send Support To:
Charity Baptist Mission Inc.
P.O. Box 692
Bristol, TN 37621-0692

-----------------------------------------------------------------------------------
Updates from Romania
-----------------------------------------------------------------------------------
January 15, 2022

"For I was an hungred, and ye gave me meat: I was thirsty, and ye gave me drink: I was a stranger and ye took me in: Naked, and ye clothed me: I was sick, and ye visited me: I was in prison, and ye came unto me." Matthew 25:35,36

Dear Brethren in the Lord, Greetings in the name of our Lord and Savior Jesus Christ.

I pray this letter finds you in His nurturing grace this blessed Christmas season, where we celebrate the birth of our precious and Holy Savior.
As a child I had always loved and cherished this time with family and friends. Setting up the Christmas tree, wrapping presents, and singing hymns. As an adult I see that many, many children do not have these same fond memories. Christmas is a foreign concept to some, or simply a holiday for the wealthy. And then some like the Muslims do not celebrate it as it is associated with Christ. But there are people that desperately need to be loved! They're lonely, they're not cared for and they have no answers. They're desperate.

Two weeks before Christmas we were in one of our weekly prayer meetings in the village of Valeni. This village must be the poorest place we come to every week. Children running around with no shoes on in the cold mud. A little boy came into our meeting completely naked apart from a t-shirt several sizes too small. My wife was with me as well as my daughter who happened to have on two pairs of sweatpants and socks and my wife, with the help of her aunt and grandmother quickly dressed the child with a pair of each. Someone also took off their sweater and helped clothe the naked child which reminded me of the verse I placed at the heading of our letter. Ralph Cheetwood would always say, "The righteous do righteousness because they are righteous".

I want to thank God by His infinite power and love, that a few weeks later we were able to distribute over 350 Christmas packets this year. They had socks, hats, gloves, candy, toys, and fruit with coloring books and markers in all. They were so happy. This is probably the only thing they will get for Christmas. I am still amazed at the power and generosity of our Almighty God, how he in His magnificent strength can hold back the pandemic restrictions for a week, so we can take these gifts to the poor. My prayer is that He continues to hide us under his mighty wings as we try to persevere for the Gospel. May God richly bless you in the upcoming year.

From Romania,
Jacob Reed and Family
-----------------------------------------------------------
January 24, 2022

"I have been young, and now am old; yet have I not seen the righteous forsaken, nor his seed begging bread. He is ever merciful, and lendeth; and his seed is blessed. Depart from evil, and do good; and dwell for evermore." Psalm 37:25-27

Dear Pastors, Churches and Friends,

Greetings from Romania and what a joy to tell you of the workings of our God through 2021.

2021 was a strange year for our world and despite the confusion produced by the price of gasoline climbing to over six dollars a gallon, now we watch as many food items, along with construction materials double in price. Normally this should slow our ministry down, but as in 1 Kings 17, the widow's barrel never stopped yielding flour nor did the cruse of oil fail from providing all the days of the famine. We have seen God provide for the ones that have opened their homes to God's men and children. It is exhilarating to see God provide for his own, as the world shuffles around in panic.

Through our feeding centers God has made a way to reach the poor, who would have no other way to acquire the necessities to survive. We provide meals and food, clothing, children's diapers and medications for cleanliness and healing. We do this graciously to provide an open door of help and as the Lord leads. We also share the gospel and invite them to church for service and prayer. We feed a lot of children as the parents are struggling to make ends meet with the increasing costs of electricity and heating. As things grow stricter, I believe many will be forced to come to these feeding centers for help and we will be able to share the gospel more clearly to those who have seen no need for Christ in earlier days.

We have been blessed by our mission board church to receive shipments of supplies for our feeding centers. Churches and individual families have been bringing supplies to Brookside Baptist Church in Bristol, TN. which has shipped them to us. Because of this we were able to afford to give the children in the villages a very blessed Christmas packet this year. We had winter socks, hats, gloves, scarfs, candy, fruit, toys, and coloring books with markers. They were so excited to receive these gifts. It always makes our year complete when you see the smiles on their little faces. They would receive absolutely nothing if God didn't provide and send us to give it to them. It is a lot of work, but nothing to compare to the joy that floods your soul. This verse comes to mind from Acts 20:35 "it is more blessed to give than to receive." We are now in the process of giving winter coats and heavy jogging suits to all our school age children in the villages. We were told we would be able to give socks and shoes soon, as Brookside has received over 1,000 pairs of new socks and around 400 pairs of new shoes. If you would like to help in this part of the ministry, please contact Pastor Mike Nixon at (423) 646-1352 for more information.

We are happy to let everyone who has helped us with the buildings know that we are in four of the six buildings. It has been a real battle at times, with the lock-downs and rise of prices it truly looked impossible to complete. By prayer and many sleepless nights, God would touch someone, and you came through at critical times. We thank you from the bottom of our hearts. It is so wonderful to see the people and children coming into a clean and warm place to find all they need spiritually and physically provided from the Lord. The most recent building is in a village where we have wanted to build in, for over 20 years. It has been impossible because of the strong Muslim opposition. Around the first of February we will have a dedication and ordination service for two of our national pastors. These faithful men have served their Lord for many years and have shown themselves faithful by keeping the testimony of God through many oppositions. Looking forward to coming together with all the brethren and missionaries from Bulgaria and laying hands on these men and blessing them and the church at the same time. Please pray for our protection and for the blessings of God to fall upon all of us who need a refreshing time of fellowship in the Lord.

With the ordination of these men, they will be receiving more commitments and I really need to get one of them a Van. It really helps to have a faithful vehicle for traveling as much as we do and truly helps to have one that can carry supplies and construction materials when necessary. We still have two large building projects to undertake in the spring and could use a van to help transport materials. It can save you a lot in transport fees. We will also be able to carry the food supplies to some villages and transport the evangelistic teams at the same time. Gas is very expensive and to make several trips is hard on the vehicle. Most of our villages are at least 3 to 4-hour round trip drives. I can't explain how important it is to have a team to go into these almost all Muslim villages and sing, preach and pray with power. Many times in a van on the way home they have another meeting, as they sing all the way home, for the joy they have received from the outpouring of the Holy Spirit at the meetings that day. The children, who travel with us if we have a van, are the ones who get it started most of the time. To be driving in a van and hear their little voices singing to the Lord is almost more than you can take. So please, if you want help with this project just send the money to my name and address and designate it as Van for Romania. We would like to buy one as soon as possible and we will need around twelve to fifteen thousand dollars for a good used one.

From Romania,
Nathan, Teresa, and Nate
----------------------------------------------------------------------

Dear Pastors, Churches and Friends, July 20, 2020
Hello from Romania once again. Let me start by apologizing for the delay of this update. We are still having major problems with our software and ask for your sincere prayers.
After three months of enforced isolation, we are finally able to travel to most of our Turkish meetings. We have three church building projects currently. It keeps Jacob and I busy, not to mention the meetings and feeding centers and the daily care of our families. Speaking of which, we are so happy to announce the birth of our granddaughter, Miruna Murphy Reed. She was born on July seventh. She was early and only a little over four pounds but praise the Lord healthy. Jacob and Elmas are so proud of her. The devil is trying to hinder in all these projects and covet your prayers for strength and finances to finish.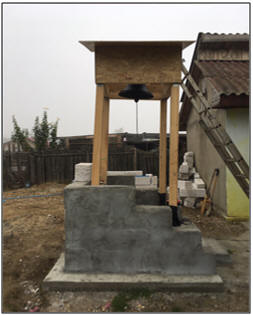 Our meeting in Calarasi is going strong. People in the village wait to hear the church bell and know it's time for church. One man named Yashar is now coming. It was in his house that we had our first church service in Calarasi. He had been stabbed seven times in a knife fight and was in danger of dying. The Lord mercifully helped him and for over five years we have prayed for him to come to church. Since we've started the morning prayer meetings again, he comes faithfully every morning with many others that have a newfound need after the pandemic. It has been some of the most powerful meetings I have ever been in since we've been on the mission field. Whoever has been praying, please continue!
Most of you will remember Amelia, Ricardo's mother. She is coming to the meetings again and it has been a blessing to have her there. She has faced much persecution since Ricardo's death with people blaming her and saying he died because she became a believer and was baptized. Amelia's faith has grown stronger through this tragedy. Only God can do something so real like this for a person.
Since the first of the year, we've faced some of the hardest trials we've been through since coming to the mission field. After a battle with pneumonia, problems with bank accounts, and visas expiring during the lockdown, we were worried about our future in Romania. After much prayer, the Lord led us to a lawyer who helped us obtain our visas. The other problems have been resolved or in the process of being resolved. All we ask the Lord for was to let us stay and help these poor people. The Lord has proven Himself faithful through it all and we can't thank Him and you all that carried us by prayers and faithful support. May our God richly bless and keep you until we can be together again and fellowship.
Faithfully yours, from Romania, Nathan, Teresa and Nate Reed
----------------------------------------------------------
Dear Pastors, Churches and Fellow Saints, July 20, 2020
Greetings from the Reed family in Romania.
We pray this finds you well. I am thankful the Lord blessed me to be able to visit the States and raise money for seven weeks around the New Year. It was a blessing to see family and loved ones once again. My wife and children were not able to be with me this time. I have been having problems with my children's U.S. citizenships and need prayer. But I am encouraged by a verse in Deuteronomy 7:9 that says, "Know therefore that the Lord thy God, he is God, the faithful God, which keepeth covenant and mercy with them that love him and keep his commandments to a thousand generations;".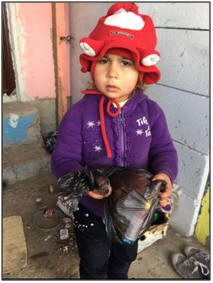 The Lord put it on my heart last year to build a church building big enough where we could meet weekly with around 75 believers. God has now given me the opportunity. My in-laws recently bought a small piece of land found just outside of Constanta where I live. This will be our big weekly meeting where my dad will bring people two hours away from the town he lives in and I will gather up believers from around the surrounding area. It has been a while since we have been able to do this. Many people have been saved from the large meetings in the past. Please pray for us, we are having problems with the building permits.
Shortly after I arrived in the States, my wife and I found out that we were expecting a baby girl. This has been a great answer to prayer. Great is His faithfulness, because on July 7th little 4 and half pound Miruna Murphy Reed came into our lives. She was born a month early, but by God's grace she's healthy and doing well. No words can express the joy she has already given to us.
We currently have three ongoing church building projects at this time. Because we were locked down for over two and half months, it has set us back and some of the paperwork has expired on a couple of places. The officials want to issue fines if certain things are not done quickly. Please help us pray for these needs!
Thank You and May God Richly Bless You Is Our Prayer.
From Romania, Jacob Reed and Family
----------------------------------------------------------
Dear Pastors, Churches, Family and friends, October 2019
Greetings from Romania. We're starting to prepare for the long winter we are expected to have by gathering and putting up wood for the churches and poor homes. It is a delightful time of communion as everyone is canning and putting up store for the lean times that will come. We have worked exceptionally hard around the church in Calarasi, by putting down foundations for the future site of a church building. We mix everything by hand, so it is always hard work. The authorized paperwork from the municipal is difficult to acquire and expensive. We hope to save a little more money through the winter and build in the spring.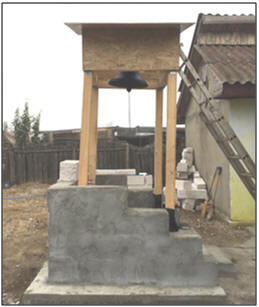 We tell you with great joy that we have been able to finally put up our church bell. If you remember some time ago, we told you of the local Muslim mosque built on the outside of our Turkish Village. With it they give the prayer call every day and one day we were meeting outside for our morning prayer meeting when we heard the Muslim priest giving the call to prayer. My mind went back to Fred Potter's testimony of how he fell under conviction as they rang the church bell in his community. The Lord laid it on our hearts to put a bell up at our little church in Calarasi. We couldn't find a good bell over here so by prayer and Pastor Bill McGuire and the church, they helped us find one and ship it over here. We were able to build a bell stand with a fountain underneath. I felt the Lord would have me put under the bell and above the fountain the verse, Revelations 22:17, "And the Spirit and the bride say, Come. And let him that heareth say, Come. And let him that is athirst come. And whosoever will, let him take of the water of life freely." We will put the verse in Turkish, Romanian, and English. Please pray the same convicting power will fall on these people as they now have a chance to hear the call to come and take of the water of life freely. Please read our son's prayer letter to learn more about the works in the ministry.
We are seeking your continual prayers for Amelia and her son Ricardo. He is the little boy who has Aplastic anemia. He is in need of a bone marrow transplant soon. Amelia became a believer some four years now and was gloriously baptized two years ago. Some of her relatives are a match, but she was baptized as a baby into the Orthodox church and they told her she had to convert back to the orthodox church or they wouldn't allow their children to donate. We have been praying and the Lord has worked it out for one of her brothers-in-law to donate. However, we were told yesterday by the doctors that there was no hope for him even with the transplant. Please pray for this situation and family.
From Calarasi and Constanta, Romania, Nathan, Teresa, Jacob, Elmas, Rebecca, and Uriah Reed (E-mail dadreed15@yahoo.com)
-------------------------------------------------------
"And there they preached the gospel." Acts 14:7

Dear Brethren,

Greetings in the name of our Lord and Saviour Jesus Christ. Hoping this letter finds you in the nurturing grace of our Heavenly Father.

As summer has ended and fall quickly passes, I would like to thank you all for your support and prayers. The Lord is continuing to bless in the Turkish meetings, especially in the town of Medgidia, which I mentioned in my last letter. It is beginning to flourish with more children and adults coming. A woman who had heard about our meetings is wanting to come as well but also wants a meeting in her house. There are many poor children in that area and it is a great opportunity for the Lord to work. As it says in the book of Luke 10:2, "Therefore said he unto them, The harvest truly is great, but the labourers are few: pray ye therefore the Lord of the harvest, that he would send forth labourers into his harvest."

We ask you to continue to pray for Brother Kadir as he has many health problems, but continually goes for the Lord. He has been entrusted with four meetings and two of them are along the Romanian-Bulgarian border. Around 30 to 40 children meet every week to sing hymns and listen to the gospel preached and eat a hot meal. The Lord is truly moving in these small villages, but because the Muslim influence is so strong it can become dangerous. It would be more difficult to do these meetings without him. He and his wife were raised in these villages and he also has a very strong testimony. Again, please pray for his health.
<![if !vml]>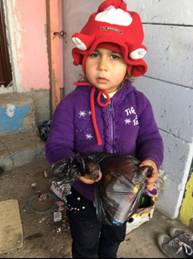 <![endif]>
The Lord has opened a door for me to preach every week in the English meeting at the Children's Home. Please be in prayer for me that God would anoint me as needed.

As Christmas gets closer so does the weight of having to prepare around 400 Christmas packets for the poor children here in Romania. Most of them come from Muslim backgrounds, so this will probably be the only thing they will get for Christmas. Thanks to everyone who helps us through the mail by sending hats, socks, gloves and "Coats for Kids". Also, to those of you who give money to purchase the candy, fruit and toys.

From Constanta, Romania

Jacob and Elmas Reed (E-mail: jakereedfamily1994@yahoo.com)
----------------------------------------------------------------------------

The Reed Family, Serving with Charity Baptist Missions to Eastern Europe since 1992 "Bear ye one another's burdens, and so fulfil the law of Christ." Gal. 6:2

Dear Brothers and Sisters in Christ, October 1, 2018

Greetings from Romania. We are honored to bring you a good report from Romania. In our last letter we spoke to you of a man named Elie. We asked you to pray for God to give him a good testimony as he drew near to death. We were truly blessed to have him leave word to his wife and relatives that he only wanted the believers to bury him. We have never been able to do this before and I was concerned. We were able to have a funeral service without any interference from the Greek Orthodox or Muslim priests. We were able to sing, testify, preach, and pray in four languages. Then we proceeded to carry his body through the village into the cemetery singing Turkish hymns and a short grave side service. The Lord gave exceeding above anything we could ask or think!

Teresa and I have an urgent prayer request about little Ricardo. He is in the town of Calarasi. He has leukemia and we have taken him and his mother for treatment several times in the last few months. The doctors aren't giving him a very good chance to live. They also aren't as concerned as they should be, because of the lack of plasma in his blood type and the fact that he is Turkish. His mother comes to the morning prayer meeting and cries out to God to heal her boy. Please ask your church and other believers to pray for this little boy. He and Nate have a special relationship and are good friends.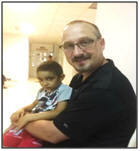 We're so grateful the meetings are going better than ever. We have three building projects going on in three separate towns. Jacob and I are very busy as we prepare to suffer the unforgiving winter. We have been able to stock our churches with wood. We have also been able to repair our three cars and put snow tires on them for the winter roads. We have been able to replace and repair a lot of things while painting our church in Calarasi. We have been able to put flooring down in the two meetings in Calarasi and this month, by God's grace and continued prayer, to obtain electricity for our main church building. After we obtain electricity, we will have power to do some spot welding and we hope to put a fence around the church property before winter. Please help us pray for these things as the devil is always trying to hinder. We are so thankful for everyone and the churches that have given to make this possible. We have a lot more to do and will try to keep you updated as our Lord provides strength and time to accomplish them.

We had a wonderful camp meeting in July. It was sad to be there without brother Ralph, but somehow, I feel he was present in each one of our hearts. We were able to travel to Bulgaria for the dedication of the church and printing house he had worked all his life to leave us. It has been over twenty years since we were able to be in an English meeting down there and what a blessing to dedicate this place as a perfect legacy to bro. Ralph. They hope to have the first Turkish meeting there next week. We just want to continue to carry on with the same spirt and desire he left for us and to get the gospel out through the Bibles and Hymn books he tirelessly labored on his whole ministry.

May God richly bless you the faithful! From Constanta and Calarasi, Romania
Nathan, Teresa, Nate, Jacob, Elmas, Rebecca, and Uriah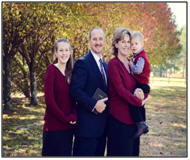 "Finally, brethren, pray for us, that the word of the Lord may have free course and be glorified, even as it is with you." 2 Thessalonians 3:1


---------------------------------------------------------


"Wherefore remember, that ye being in time past Gentiles in the flesh… were without Christ … having no hope, and without God in the world: But now in Christ Jesus ye who sometimes were far off are made nigh by the blood of Christ." Ephesians 2:11-13

The Jacob Reed Family Serving with Charity Baptist Missions to Eastern Europe since 2012 "And there they preached the gospel." Acts 14:7

Dear Brothers and Sisters in Christ, October 1, 2018

Greetings in the name of our Lord and Saviour Jesus Christ. I pray this letter finds you well in the nurturing grace of our Lord. We continue to thank you for your support and prayers.

On the 8th of June this year we buried our beloved senior missionary Brother Ralph Cheetwood. It was a bittersweet moment in time. But we have the hope of our precious Lord to reunite us on the streets of gold! We continue in the work that he left us to further the gospel to the Turkish believers here in Romania and Bulgaria. For over 35 years he has worked on the Turkish translation from the 1611 KJV bible and his legacy will live on throughout the ages.

In the past few months the Lord has given me the honor and privilege to watch over the meetings here in Romania for my father and family while they are on furlough in the States. It has been a blessing to serve these past few months and help further the gospel of Christ. I have had a burden to start a Turkish meeting in a small village called Pecineagra. This is the village where my wife grew up and we have started a prayer meeting in my father-in-law's house where we feed and minster to them daily from both physical food and the translation and Turkish hymns Brother Ralph left us.

We have a great burden for a little boy in the Town of Calarasi. His name is Riccardo and he is five years old but has leukemia. My Father and mother have taken him to Bucuresti to have random checkups and treatments. They are very mean to the mother and haven't given him much hope to live. Amelia is a strong believer and comes to the morning prayer meetings and cries out to the Lord for her son's life. Just the other day she stood up to testify and said she had asked Jesus to give Riccardo plasma from his blood. They don't have any in his blood type, so I ask you to give it to him from your clean blood. It really touched my heart when I heard her say this. This the second time this mother has had to go through this. Amelia's little girl Alexandra had leukemia for years and was able to obtain plasma from her older sister, but Riccardo isn't a match with his older sister. Alexandra is now cancer free, but it will take a miracle for Riccardo. We ask you to help us pray for this little boy and his family.

We also have a national pastor by the name of Bayhan. He is a great blessing to us and has a wonderful testimony. He has type one diabetes. We give him some money to try and help him every week with his family, but with the prices of insurance going up, he doesn't have the money to pay it every month. He is raising two children that aren't his just out of the goodness of his heart. If you would like to help a real national pastor, please let us know and I'm sure the Lord would bless you. Thank you again for all you do for our family and God bless you!

From Constanta, Romania, Jacob and Elmas Reed jakereedfamily1994@yahoo.com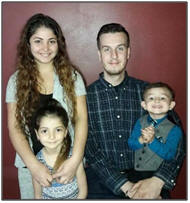 ---------------------------------------------------------------------------------------------------
Dear Pastors, Churches and fellow Saints, Greetings once again from Romania! January 1, 2018
The Lord blessed Jacob and my visit to America. I only had two weeks and needed more time, but we are thankful for the depth of love we found as we traveled to all the places we could. I'm convinced that God wanted to do more, but we are busy, and the work must be watched over.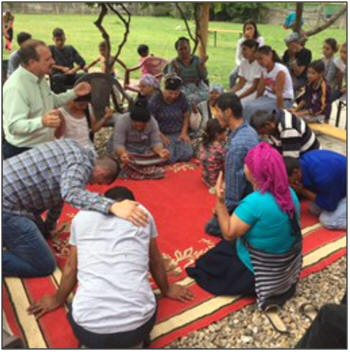 I enjoyed hearing Jacob stand up and share the way God had worked in his heart and led him to see the ministry. Jacob spoke of when he was around 14 years old and how I had taken him to a meeting in town. He had not wanted to go, but knew he had to. I was forced to leave him alone with the lady of the house as I drove some older people to their homes. During this time the lady of the house was concerned because it was growing colder as sun began to set. She had no wood and took one of her pillows and ripped it up and burnt it in her little stove to keep him warm. He said, that one act of kindness and the thought of her having to sleep that night without a pillow somehow opened his heart to see what God is doing in these people's lives. As I listened, I was so blessed to watch pastors and church members transfixed as Jacob spoke of how God had burdened him and wanted him to give his life to this Turkish work.
It is wonderful to see how faith is a beautiful and miraculous gift from God. I was able to experience the joy of seeing it unfold in his life after years of worry and fear. What a beautiful picture of the grace and power of God. It is hard to hold the emotions in when God's pure love is being revealed like that. I wish all young people could understand what a beautiful thing it is to seek God's ways. Not because of talent or ability, not because of prestige or financial gain, but because of the gospel and power it has too set men and women free.
We are joyful as we end another prosperous year. We were blessed to baptized seven believers and honored to participate in an ordination service this year. We also buried two of our oldest believers. We buried their bodies, but their works do follow them. We are committed to guarding their testimonies of Jesus Christ while awaiting the joyous day of our reunion in heaven. What a blessing to give out over 350 Christmas packets to the poor children. The joy and hugs always help seal and cap off the year with hope. Time and space would fail me to tell all Jesus has done in the lives and families of these believers, but God's grace has carried us through and our faith is once again unshaken because of his faithfulness. Please continue to pray for the churches and centers and us as we enter another year for his name's sake!
Thank You and May God Richly Bless You Is Our Prayer! From Romania, Nathan, Teresa, Rachel, Nate, Jacob, Elmas, Rebecca and little Uriah

---------------------------------------------------------
"Now unto him that is able to do exceeding abundantly above all that we ask or think, according to the power that worketh in us, Unto him be glory in the church by Christ Jesus throughout all ages, world without end. Amen. " Eph.3:20-21
Dear Brethren, September 2017
Greetings from the Brethren in Romania who are praising God for his continual blessings and thankful for your faithful prayers and support. God's love is never-ending and I rejoice to see the hope spring up in them as they perceive God's hand working in their lives. Before the knowledge of prayer came into their lives they were bound in darkness to live out their lives with only the hope of fate. They tried to obtain this by religious acts and ceremonies, but now they pray to Jesus.
Affisa is a woman whom God has been working with for many years. We found her while she was very messed up and the community was ashamed of her. She would come to the meetings and looked as if she were in a trance. My heart would break for her as I could see the deadness in her eyes as the believers sang the hymns with victory. The Lord opened a door for me to start having service in her mother's house. She still would only come as it was convenient for her. It seemed as if God would start to deal with her, but when she would get close to getting light, something would cause a fight and again the hard spirit would return. This went on for about two years and no matter how good the service was the bitterness would always enter in and was a great hindrance. I felt the Lord put it on my heart to preach out of Gal. 6:1-2. It talks about restoring someone to the Lord in a spirit of meekness and helping bear their burdens and fulfilling the law of Christ. Well I thought that would take care of everything and God had spoken! Well to my shock, we returned the next meeting to find her mother had kicked her out of the house and a lot of the church was happy she was gone. Needless to say it made me angry and I knew they didn't understand the function or reason for the church. I knew it wasn't going to work in this house any longer. I didn't hold a meeting in the house and proceeded to find Affisa. On the way it came to me how our senior missionary had always taken in the outcast that the legalist Muslims and even evangelical churches had kicked out. It was as if the Holy Spirit said, start a meeting in her run down home. I spoke to her and with great joy she spoke to the landlord to see if it would be ok. We have been having the meeting there for over 3 years. The mother and other church members swore they would run us out of the village, but have since started coming and really gotten in. The mother is the lady we buried back in April I wrote about in my July prayer letter. She became a true believer!
The Lord has and is doing more then we could ever think or ask! Affisa has become a very strong believer and prayer warrior. We have daily morning prayer meetings at the church. She also prepares meals for the poor children and adults every day. I am continually blessed at how she can catch a burden for someone in the village and as the Holy Spirit moves her to weep in the presence of the church. You can feel the grace that was given to her start flowing as she prays for the same deliverance for the ones still in darkness. There is truly nothing that can change someone's life forever like the grace and mercy of God.
I will continue to tell you of the wonderful things God is doing in His church with my next prayer letter, but I need to thank the Lord for the privilege to be back in the States at this time. I flew into the States last week and desire your prayers for the Lord to open doors for me to be able to raise more support for my son Jacob. He hasn't been back to America for five years and has helped me nonstop. Because of his help in taking care of the older meetings, Teresa and I have been able to stay in Affisa's village and hold prayer meetings every morning. Our senior missionary had a service to ordain him in July. It was one of the greatest days of my life to be a part of this holy service. Before raising support for him and his family we wanted to wait until we were sure he was sincere with his call. With Brother Ralph's desire to ordain him, I feel it is time to help Jacob by establishing some regular support. I am asking for your sincere prayers that God would do miracles and lay it upon people's hearts and take him on by faith. By you helping him it would free me up to help some of our national pastors a little more.
I am here now and will go to as many places as possible. I am also waiting for him to receive his residence visa so he can come to the States. Hopefully he can travel around with me for about two weeks, then I must return and he will have to continue here by himself. I can't leave the work without one of us there for more than two weeks. My wife is in Romania with my family and will be there to watch over Jacob's family while we are here. I know it is a short window, but if you can help, please contact me at my email at the top of the letter. I would love to come myself or with him and continue to show and tell you all the Lord is doing in Romania. We thank you for everything and may God richly bless you.
From North Carolina, Nathan, Teresa, Rachel, Nate, Jacob, Elmas, Rebecca and Uriah
"Finally, brethren, pray for us, that the word of the Lord may have free course and be glorified, even as it is with you." 2 Thessalonians 3:1
---------------------------------------------------------
Dear Brethren, July 1, 2017
It is an honor to write to you from Romania once again. The Lord is good and truly to be praised and I praise him today!
Thank you so much for praying for the older lady in the town of Calarasi who was dying. Many times she would become sick and I would go by and have a service and pray and she would receive strength. Toward the end she drifted off into a coma and stopped eating. Jacob and Kemal gathered the believers from Constanta and started the journey to Calarasi as I sat with the family while they prepared for Mammy's death. About an hour before the believer's arrival, a miracle happened and Mammy began to awake and wanted to sit up! She couldn't talk, but wanted something to drink. They had some water and fruit which they tried to give her, but she was only able to eat and drink a little. During those 60 minutes it was wonderful to see the family come in and out of the house, amazed at how the Lord had raised her up. The most amazing thing to watch was the grandchildren and great grandchildren. After the adults had cleared the room, they began to come and sit on the floor before the bed. I would watch Mammy as she would look at them and I could see her lips moving. One little girl came to the door and Mammy tried to wave for her to come to her side, but was very weak. One of the older girl's went to bring the little girl to Mammy's bed and as if the time had come, she raised her hands and though I couldn't hear, I knew she was praying for those little ones. It was such a powerful moment and most of the 20 or so children didn't know what was happening, but there was no mistake of the presence of the Holy Spirit as she prayed for God to watch over them. The believers arrived and we had a wonderful service. Mammy seemed to receive strength from the believers and was able to greet them after the service. The whole next week I held service every morning at her house and Mammy got stronger and stronger to the place where she was able to feed herself and walk to the bathroom with help. God took Mammy to heaven on Easter morning. She died after telling her grandson, Emara, not to worry. She said Jesus had told her she was going home today. What a wonderful testimony she has left us to help her family find the way, the truth and the life. Now every time we sing her hymn, everyone knows that it is the hymn Mammy loved. It was an honor to preach her funeral. "..….Yea, saith the Spirit, they may rest from their labours; and their works do follow them." Revelation 14:13. Amen!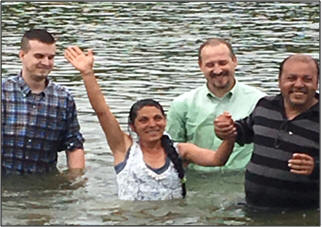 The meetings are going well and I'm thankful to tell you we have been able to baptize six believers this year. Just yesterday we were able to baptize two. This morning Teresa and I went to the meeting and about half way through, in came Ekrem who was baptized yesterday. He still had his work cloths on and was smiling from ear to ear. He said he had finished up early and rushed to come to prayer meeting. Such joy and hope he brings to the older believers and us. Out of the nine that were baptized last year, four were present this morning and four more came as their work schedules or unsaved husbands allow. One was forced into prostitution by her husband and I ask you to pray for her deliverance from the devil's plans. Amelia is in the picture above. She is the mother of little Alexandria who had leukemia, I asked you to pray for a couple years ago. God healed Alexandria through prayer and Amelia knows it. She was one of the ones to follow the Lord in baptism just last month. Amelia now has great faith because of these trials and it's a great joy to be a part of her continual growth. What joy and faith came out of her the day she was baptized! Now she believes God for her husband to be saved. Please help us pray for her husband's faith and salvation.
We praise God for adding to the church every year as he sees fit and please continue to pray for us and all the national pastors and missionaries as we try to keep and shepherd His flock.
We would also like to ask you to pray for Jacob, his wife, and children as we go to the Embassy tomorrow and submit a request for them to return to America for a short furlough. Nothing is easy over here, but I know our God is able.
From Romania, Nathan, Teresa, Rachel, Nate, Jacob, Elmas, Rebecca, and Uriah Reed
----------------------------------------------------------------------------------------------------------------------------
Dear Brethren, March 24, 2017
We are so thankful to be writing to you from Romania. We returned to Romania on February 23rd, after a short stay in the States. It was a blessing and refreshment to be able to get around to some of our supporting churches and share our ministry. We are thankful for the fellowship we had with family and friends, but we're contented to be back and we're looking forward to the spring and summer months.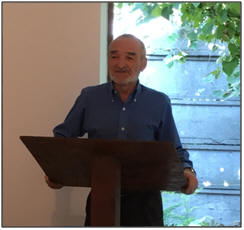 On February 4th, our national pastor Ahmet went home to be with the Lord after battling lung cancer. I returned to Romania for a few days for the funeral and to comfort the family. We prayed that Ahmet would not suffer. He wasn't on any kind of pain medications, only oxygen and we were afraid he would have a terrible death. But the Lord answered our prayer and Ahmet died peacefully in his wife's arms while holding his oldest son's hand. At the funeral many family members who still aren't believers heard the gospel preached. We thank God for the testimony He gave Ahmet of his grace and mercy to see us through to the very end. When his children and grandchildren visited him while he was sick, he would sit up in bed and preach to them about Jesus Christ saving his soul and tell them he was ready to see Him. I was amazed at the Americans and nationals the Lord sent by to visit. This is a true picture of the grace of God for his children. Praise God Ahmet didn't face death alone and neither do any of us who've trusted Jesus Christ as our Lord and Savior.
On March 17th, we had a Turkish Campmeeting. The Bulgarian Turkish believers came to Romania and joined our Romanian Turkish believers for a weekend of church services and fellowship. We were able to bring our new believers from Calarasi and they were blessed to be part of it. During the Saturday night service, while we were singing the second song, the Lord came down in the service and people were on their feet praising God. Many of these people have burdens we can't imagine and it's such a blessing to see the Lord come by and lift those burdens from them. One of our new believers from Calarasi testified during one of our morning prayer meetings that he'd never felt such love and joy as he did while singing with the other believers during the services and in between them. He said he even found himself alone in the church after everyone else had gone to bed, still singing.
We're looking forward to the spring and summer months. At our morning prayer meetings in Calarasi, we are already able to have our services outside. It is around 60 degrees, but when the people hear us singing, they know it's time for church. The children will come and sing and pray with us and afterwards the women will feed them a meal and send them home with bread. As I've told you before, this is the only hot meal some of these kids will get that day. We would love to do some much needed construction work around the property and church. One of the things we would love to do is put in a church bell. Please be in prayer for us about this.

Yesterday, Jacob and I were able to bring believers from Constanta and Calarasi to the meetings in Lespes and Valin. There were a large number of adults and children in both meetings. Our Turkish pastor Kadir oversees these meetings and was very pleased to see all the people. Please help us pray for these villages! There are some strong Muslim leaders in these villages that use the poor people for their personal profit. Please help us pray the Lord will save or distract these influential leaders until we can get the gospel to the poor in darkness.
I would like to praise the Lord for answering a prayer of ours for an elderly believer in Calarasi. She is in her eighties and has seen many hard days. Just in the last two years she has had to bury four of her daughters and one grandchild. She slipped into a coma just four days ago and we were truly worried because they put her into intensive care. The doctors called for the family and told them to prepare for her death. We started to pray and a few hours later we received word that she had come out of the coma and was doing well. After the village meetings I stopped by the hospital to find they had moved her out of intensive care to a normal room with three other ladies. Mommy, as we call her, looked twenty years younger. Before I left everyone in the room was singing hymns and we had church in the hospital. Praise God for hearing our prayers!
From Romania, Nathan, Teresa, Rachel, Nate, Jacob, Elmaz, Rebecca and Uriah
----------------------------------------------------------------------------------------------------------------------------
Dear Pastor, Church family and praying friends, January 2017
Greetings once again and pray all is well as we start into this New Year. Teresa, Rachel, Nate and I returned to the States on December 27th for some things we needed to get done and rest. We will return on the 22nd of February. Please pray for Jacob and the national pastors as they maintain the work while we are here.
The meetings are going well and we were blessed to be able to Baptize 8 new believers in October. What a wonderful time of fellowship it was as we gathered the believers from Constanta and nearby villages to travel two hours west to the town of Calarasi. Starting with a service we congregated outside and sang as our voices echoed through the streets of the village and people started to gather. After about ten hymns I asked Ahmet to stand and give a testimony and then we gathered the eight new souls in the middle of the group and prayed for them and us. As we loaded everyone into the cars the believers were singing all the way to the river and the joy spilled out onto the shore. We then carried out the commandment of the Lord by giving these eight new souls the honor of revealing to every creature the miracle that had taken place inside of them. By the death, burial and resurrection of our Lord they had been birthed into the kingdom of God. It had to be one of the best moments of my life to lead these new born babes into their first steps of faith. Now I covet your prayers as we continue to help them grow in the word of God and his grace.
From our new location in Calarasi, we are praying to travel to Bucharest, the state capital of Romania. We have already been able to travel there some and have had meetings with family members of believers from Calarasi. I understand it takes prayer and our Lord's blessings for this to be accomplished. Calarasi is only a half hour drive from the border of Bulgaria. We hope by the guidance of the Holy Spirit to one day travel into Bulgaria where many villages still await someone to come and shine the glorious light of the Gospel. But at this time Jacob and I maintain 5 churches and three prayer meetings. With the new location in Calarasi we are able to bring the new believers in from the west and Jacob is able to bring in the believers from the east to meet together in the southern villages of Lespez and Valen, where one faithful pastor named Kadir has been laboring. He has around one hundred and fifty children who his family members devotedly feed every day. Up until now we haven't been able to be with him in the meetings but maybe once or twice a month. He drives in with a car, we were able to purchase for him. Every week he supplies these village meetings with food and holds a service with them and many other adults. It has been hard for him to basically stand alone against some real persecution, but now we are able to be with him every week and he is very thankful. Please pray for us and him as this has been a long time answer to prayer and many years of growth for this to have been accomplished.
I would like to ask you to continue to pray for Ahmet who is now confined to his bed with oxygen. He is strength to my faith as everyone who comes to visit with him; he sits up and testifies of the 15 years of grace the Lord has given since his salvation. We hope upon our return and his transition to heaven to honor him with a believer's funeral, because of his 9 children and 50 plus grandchildren and great grandchildren. Many of them are not believers but are watching a man die as a Christian should die. This is the reason we are returning quickly to the field. Please help us pray the Lord will open as many doors as possible while we are in the States.
Once again it was our privilege to put together 450 Christmas packets and this was the best year the children have had. A special thanks to all of you who have sent socks, coats, hats, scarves, gloves, toys, and candy. They made the packets extra special for the children who otherwise wouldn't have received anything because their families are either of the Muslim faith or are just too poor to buy anything for them. I'm always blessed by the smiles, screams and even hugs we receive from them. It was a wonderful way to end the year.
May God richly bless you in the upcoming year and may all His will be accomplished in our hearts and souls.
From North Carolina, Nathan, Teresa, Rachel, and Nate.
From Romania, Jacob, Elmas, Rebecca and Uriah..
----------------------------------------------------------------------------------------------------------------------------
Dear Pastor, Church family and praying friends, September 17, 2016
Greetings from Calarasi, Romania and pray all is well with you. The fall is quickly moving in and we feel winter just around the corner. I will miss the warm weather and the chance to meet outside to sing the hymns, pray and preach. We have heard response from people who say they can hear the hymns in the mornings and it draws their hearts to God. Some husbands want let their wives come to the meetings so they go outside to do their work and listen to the hymns. I can only pray that the Lord will make a way for them to come and take part in the service.
Some of the Romanians are starting to come to the meetings. They don't understand the Turkish that well, but can feel the Spirit and began to cry. One lady has had a problem with her eyes and one of her legs for years. She started coming because of the pain in her leg and was walking with a walking stick. She comes and begins to cry as we sing and always request prayer after every meeting. One morning I arrived to the church and she came to me saying something had happened. The pain was gone and she didn't need the cane any longer. She began to run around the yard to show me how well she could walk. We all rejoiced and are still rejoicing two months later. She said she knows it was Jesus who helped her and she wants to be baptized. I am amazed at how God is working with her and other Romanians in the Turkish meeting. She will be one of six new believers who will be baptized next week.
Kurban Bayram is a celebration where the Muslim priest will kill sacrificial animals for the sins of the community. This started on Monday of this month and many of the believers in our churches are treated badly during this time for not taking part in the ceremonies. One young man, who has shown much growth in the faith, was coming faithfully and a real strength with singing the hymns. His uncle is in the mafia and returned to the town from Germany for Bayram and the death of one of his sisters. He told this young man he would break his legs if he came to the meeting during these religious days. I haven't seen the young man for over two weeks. I don't want him to be carried away and be made to work with his uncle in this business. Please pray for him and his family. This uncle was in one of Jacob's meetings a couple of years ago and had to leave in the middle of the singing when he started to cry. I would love to see God save him and his entire family. We have seen this so many times over here. This young man's mother was a prostitute before I met her. I was there when God saved her and now she is one of the strongest believers I have. She feeds around 25 or 30 children and adults one meal every day. I wish you could see God come on her as she catches a burden for someone in her village who is in need of prayer. I know God is able so please pray for this situation.
Amelia is the mother of the little girl who had leukemia and who is cancer free at this time. Alexandria is still doing well and growing stronger and prettier every day. Amelia's husband is not a believer and has made all the family to move to Italy to beg and try to raise enough money to build a bigger house. Many of the Turkish people are now traveling to Europe to do this because of the current circumstances in Romania and Bulgaria and the living situations are terrible. We were getting ready to start the meeting when this lady brings me the phone and it is Amelia who we had been praying for. She said she had had a dream and I was telling her that she had forgotten what Jesus had done for her and she just wanted to tell me that she hadn't forgotten. While she was on the phone we were able to sing and pray with her. She couldn't come to the meeting so God took the meeting to her in Italy. Praise the Lord! I pray God will bless them quickly and bring them back and see the whole family in church together.
Please remember us as we go into winter. It is always a hard time for the poor believers and we need a lot of wood for the feeding centers and meetings. Thank you so much for all you do and most of all for the prayers.
From Romania, Nathan, Teresa, Jacob, Elmaz, Rebecca, Uriah, Rachel and Nate Reed
----------------------------------------------------------------------------------------------------------------------------
Dear Pastor, Church family and praying friends, July 10, 2016
The Lord is so good to us and I must apologize for the delay on this letter. We have just come out of our annual English Campmeeting where we were blessed to have nine days of worship and fellowship. God met with us morning and evening as we sang, prayed, testified and preached and his Spirit moved over our children and these in the children's home. We really do not realize our need for revival until you come together with the brethren and the Holy Spirit begins to work and reveal how cold our hearts have become in this dark day we have been called to work in. We thank God for this time every year and ask you to continue to pray for our children.
We will have our Turkish Campmeeting starting on 19th of August and ask you to remember us in prayer.
The meetings are going strong and we're thankful for each one. Most have daily prayer meetings and feeding centers where they are nourished physically and spiritually. God has given some powerful hymns and I am amazed at the way God brings healing to these people daily. There is a national pastor by the name of Bayhan and he has sugar diabetes. He has a meeting in his house and every morning his wife rises early and prepares a meal for the poor children in the area where she lives and then goes to work for half a day were she makes around 70 dollars a month. Bayhan will rise and prepare his one room house for the believers to come. Many mornings he is very sick from his diabetes, but knows the believers and children are going to be there soon. I am encouraged by the way the singing of the hymns transforms him and others. He starts to smile as we sing about our Lord and suddenly all his problems just start to disappear and by the third or fourth hymn he is ready to testify of the goodness of God to him and his family. Please pray for these meetings!
In my last prayer letter I spoke of a grandmother who stood and testified as her daughter set in the floor that had lost her mind because her baby girl was born 2 months early and was taken from her to the state capital. She went to stay by her baby's side only to find a room full of evil spirited women and Dr.'s who tormented her because of her faith and race until she broke and had to return home. I watched this grandmother as she cried and testified of the power of the Lord and how she knew Jesus wouldn't leave her daughter or little grandchild. She continued to say how that one day she would hold her grandbaby as her daughter would stand and testify and praise God for his power and deliverance. Thank you for praying because three weeks ago the daughter stood and testified while holding her beautiful little baby girl. The church exploded in praise as this young lady cried and praised her Lord for the goodness and power over the last few months.
I would ask you to pray for the extension of the Children's Home we have been working on. It has come to a standstill. There were many who professed the desire to come over and help us with the work, but it just doesn't seem to be working out for them. If you or someone you know would like to come over and help, it would be a great blessing. Please contact me through the e-mail address at the top of this letter.
The meeting in Calarasi is going great. We have been meeting outside because of the heat, but the Lord is doing great things with these poor people. Just the other day a Muslim priest from Turkey came to dedicate the new mosques in this community. As the sound of the prayer call bounced off the houses we sang the hymns and I prayed for the Lord to put out His call to His children. About that time four hungry children came into the gate and sat down and wanted books to sing the hymns with. It was a real joy to watch as they tried to sing and looked up at us like little lambs, following our every word and action. Please remember these little ones also as you pray.
From Romania, Nathan, Teresa, Jacob, Elmaz, Rebecca, Uriah, Rachel and Nate Reed

----------------------------------------------------------------------------------------------------------------------------
Dear Brethren, Friends, and Family members, May 11, 2015

Praying this finds you well and wanted to let everyone know I made it back to the U.S. on 28th of April. I will be here until 2nd of June getting together the container of construction materials for the extension of Casa Julia in Constanta, Romania. We can purchase better materials here for a cheaper price and ship them to Romania without having to pay any custom taxes. The container well be sent directly to the supplier and the materials will be loaded there. They have the equipment to help us load and this is a big help because the shipping company only allows two hours to load a container before they start charging by the hour. We have a list of the materials we wish to purchase and we truly need to do so quickly. We hope to load the container on the 29th of May. Please pray for us!

I praise the Lord for his goodness in this ministry. We have been with Charity Baptist Missions for 23 years and God has done so much. What a blessing it has been to see hundreds of former Muslims come to understand the truth in the Gospel and be baptized. Now to see my son follow the call of God in his heart and to watch the Lord work with him in spite of the devil and all his deceit, I can do nothing else, but praise our mighty God, "who is able to do exceeding abundantly above all that we ask or think, according to the power that worketh in us."

To have been able to be a part of these feeding centers and watch the Lord raise a generation of children and see many of them now following in the faith and praying, preaching and teaching their children the truths. In one of the meetings a Turkish Believer testified and praised God of how the missionaries left America to come all the way to Romania to help them. They left a rich country, family, language, and all they knew to come to this poor place so we would know how to get out of deep darkness and find the way to God. We knew about God, but we didn't know the love he had for us until we saw how he gave his Son to save us. These people must be from God because Nathan is to go back to America for a short time and he is leaving his son to take care of us!

I've been blessed to see the Children of Casa Julia grow over the past twelve years. Dave and Dara have done a wonderful job and now as these children grow into young adults we can plainly see the hand of God in their lives. There are 7 girls and 4 boys taken from the worst places and raised in our homes, dedicated in our church and truly blessed for a higher purpose. Even they do not fully understand how good God has been to them, but I'm sure in time they will. I drove by the houses where some of them would have grown up and I just praised God in my heart for how he has taken them out of the dung hills and placed them in the Father's house with us. Just last month they took their instruments with them to school for show and tell. They played and sang some of the church songs for their class and the Holy Spirit began to move on one of the teachers and she began to cry. She arranged for them to go to other classes and sing and later arranged for them to be able to go to another school as well. Out of this many of their classmates wanted to come to our church and it was arranged for them to come to our English service we have at the children's home every Sunday morning. Praise God for the way he is able to move and for these orphans who are not ashamed to sing about the Lord. We truly thank all of you who have given and helped with the purchase of the container and materials, but we still need a little more. This is a real children's home and I wouldn't ask if it wasn't truly necessary.

Nathan Reed and Family
----------------------------------------------------------------------------------------------------------------------------
Greetings in the name of the Lord, March 19, 2015

Thankful for the breaking of the weather and can see spring beginning to push its way through for the first time in 2015. We have so many things approaching as surely as spring and must prepare.

We have a special Turkish meeting starting on the 28th of this month. We will gather the Turkish believers here in Romania and the other missionaries in Bulgaria will bring a car load of their believers across the border to meet for a weekend of services and fellowship. We should have around 100 in attendance. It will be a wonderful time of worship and revival. Please pray for new believers!
We also have our English Campmeeting starting the second week in April. All the American Missionaries will join us here at the home for a week of services and fellowship in English. Please pray for our children!

Thank you for your prayers for Jacob. The doctors have found what they say is a nodule in his lung. It is formed over a hole that was produced by his Tuberculosis. They want to remove it with surgery. Please help us pray about this important decision and Jacob's health. We need God's wisdom and guidance as we proceed and some relief for Jacob.

While in the states we spoke about the senior missionary's burden to extend the children's home over to a 4200 sq. foot house here on our property. We want to prepare rooms for the older children in the children's home and also use the top floor for a Turkish Church and place to bed people down during our many Campmeetings we have every year. Jacob will also live there with his family.

With your help, we want to put together a container to ship some building materials and finish the inside of this house. It is a better use of the money and we can acquire a better price and quality of materials in America. Dave Turner and I have been able to make connections with the Vama agents in Romania and feel confident in the shipping and receiving. I will return to America on April 28th to make sure of the purchases and packing of the containers is correct. We have at least one business who will give us a discount and we want to try and purchase all of the materials from one or two places. This will help on the calculations necessary for the shipping company and minimize the problems when it comes to clearing Romanian Customs. If you would like to help or have any questions, please contact me at: 828-490-4202 or you can just send money to our support address and make a note stating that the money is for the Extension of the Romania Children's Home Shipping Container.

We end with a prayer of Thanksgiving and Hope as we move into another spring.

From Romania, Nathan Reed and Family

----------------------------------------------------------------------------------------------------------------------------
We also have an urgent need for a new van in Romania. An older van was badly damaged in a car accident and needs to be replaced. This vehicle is used for going to 14 meetings a week and is heavily relied upon for the feeding centers and transportation of the preachers. Please designate any donations to "Van for Romania". We would appreciate anything you can give toward this need.
-----------------------------------------------------------------------------------------------------------------------
Greetings in the name of the Lord,
January 22, 2015

We had a good flight and were thankful to arrive on the 14th of this month back in Romania.

Thank you all so much for your prayers and just wanted you to know how much we truly cherish the time and the memories we were able to create with you all. We will hold them in our hearts and draw on them as needed to help us carry on in the Lord's work until we are able to meet again.

Even though we returned tired and jet lagged, it was a wonderful reunion with Jacob and Elmaz. We were thankful to hear the good reports of the meetings and how well the distribution of the Christmas packets went while we were gone. Jacob said they were able to give out over 400 packets to the children of the feeding centers. They give bananas and oranges with a candy bar, some suckers and at least three pairs of socks to each child. He told me since the children never get any fruit, they ate it first and then started putting on the socks. I rejoiced to hear this, because I know this is the only thing a lot of these children got for Christmas.

We were hard-pressed to travel over 12,000 miles while in America and thankful for the churches we were able to reach. We were blessed to raise nearly half of the total we need for the building and we are very pleased. Some of you wanted to know at the end if we were able to raise the full amount and if not you wanted to help. Thanks to all of you who helped us with our tickets to the United States and travel expenses while in the States, but please keep us in your prayers as we continue to believe God for the rest of the money and as we continue to build. We truly desire wisdom from God on how to continue and complete this work.

We ask that you help us pray as we look into sending a container to Romania with building supplies for the construction of the building. This would save us a lot of money and the quality of the materials would be far better than we are able to purchase here. We will let you know more about this later.

Please know it takes at least ten days for this letter to reach the U.S. before it can be mailed! Thank you all again and may God bless you richly is our prayer.

From Constanta, Romania Nathan Reed and Family

"Finally, brethren, pray for us, that the word of the Lord may have free course and be glorified, even as it is with you." 2 Thessalonians 3:1

-----------------------------------------------------------------------------------------------------------------------
November 2014
Dear Praying Friends,

Hello once again. With the great need before us, after praying this morning I felt the call to write another letter to you about the burden upon our senior missionary's heart. As you know we have a Children's Home in Romania and over the past 12 years we have been able to build our houses alongside the "The Father's House". This has been a haven of sorts for us and refuge for many others. We have been blessed with 11 children who were rescued from some of the worst environments and have been able to grow in safety from the oppression of the world and religion. Most were just infants when they came under the care of this Home and now some are teenagers and the others are quickly coming up behind them. God has been so good and we have watched God save 4 of them and we are prayerfully waiting to see the others follow. We believe God has a special plan for each one of these children and a great blessing in Heaven for all of you who have believed with us for them.

We have a shell of a house that was constructed in the beginning with all the other buildings. We need to finish it and now feel it is time to do so upon the senior missionary's burden. He has put Me, Jacob and Dave in charge of seeing that it is completed. This is the reason I am back in the States to raise money for this project. Jacob and his wife will be the care takers of it and we want to build rooms for some of the older children and if the Lord leads, it may open up doors to receive new children. We can also use the rooms to house the missionary families who have for years been coming to our yearly English Campmeetings. At this time it is very difficult to put everyone up. Sometimes up to five times a year we all meet together and the bathrooms are not sufficient and sleeping accommodations can be difficult because of the weather. We would like to finish off the top floor of the building to use for a Turkish Church or at least for now to bed down the many Turkish men when they come. We bring in the Turkish Believers from Bulgaria twice a year to have Turkish Campmeeting. This will provide a separate place for the men to rest.

It is expensive for me to send out a letter and I wouldn't do it if I didn't really feel it necessary. We need around $30,000 dollars. I have tried to be faithful to my calling for over twenty years and never have felt it stronger then now. I believe you know mine and Teresa's hearts are only for God's will and the well being of those he has called us to help. May God bless you and thank you so much for all that you have done for all of us these many years.

From North Carolina, Nathan, Teresa, Rachel and Nate
----------------------------------------------------------------------------------------------------------------------------
October 1, 2014
Dear Brothers and Sisters in Christ,

We are so thankful for the kind responses we have received about Jacob. He is in the last month of his medication and doing very well. By the Lord's grace we were able to marry him to his new bride on August 2 and it couldn't have gone any better. We were blessed to have large attendance of Turks and Americans and the Senior Missionary preached in English and then in Turkish. I thank you for your prayers and gratefully praise God for giving them the desire to share such a Christian testimony among the people we have tried to edify these many years. It was one of the greatest days of our lives and our prayers are ever before the heavenly Father to produce many more fruitful testimonies for Jacob and Elmaz to shine forth in this dark world.

We were able to purchase the larger car at the end of August. It was a blessing and we are so thankful for your patience and charity. Jacob took the car for the first time to the meetings and the Turkish believers knelt and cried and prayed prayers of thanksgiving. Many of them waited for over two years so they could start going to the villages and encourage their ill-treated brothers and sisters in Christ.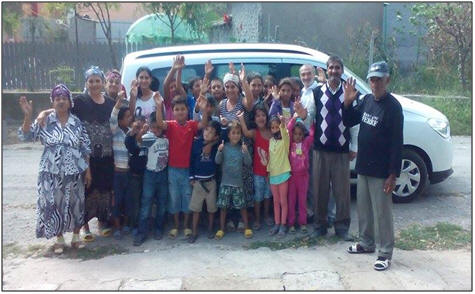 The meetings and feeding centers are all well. Many new people and children are coming. In one of the villages there are around fifty children who come and love to sing. Sometimes there are twenty children and adults who are waiting outside for us to arrive. Jacob was telling me that in this meeting a little girl came with her mother and was naked. Some of the people wanted her to leave, but a couple of the ladies took off their head coverings and girded the little child and set her on their laps. I am so glad they are not afraid to disregard the old Muslim law that teaches it is a great shame to remove your head covering in public. They covered this young child to shield her from public rebuke so her mother could sit in peace to here the Gospel. I still remember the day when God clothed me when I was naked and ashamed.

We have returned to the states for a short furlough. The Senior Missionary has a burden and asked us to help him raise some money. Jacob is taken care of the work with the national pastors. Little Nate has never been to his country and it has been over three years since Teresa was home. Would you please contact me at 828-803-3451 or 828-783-0265. We look forward to seeing and sharing all the Lord is doing in Romania and Bulgaria.

Thank you so much for all that you do.

From North Carolina, Nathan Reed and Family
----------------------------------------------------------------------------------------------------------------------------
Dear Brothers and Sisters in Christ, April 18, 2013

We are now feeling the spirit of spring and the relief of the long winter ending. It brings such hope and really reassures and revives the truth of God's faithfulness.

We have an English camp meeting here at the Children's Home three times a year. It is such a blessing to gather with the other missionary families and sing and preach in English. We are blessed to report that three of our children were saved. Niki, Seker, who are girls that were raised here in the children's home and Grayson Turner, Bro. Ralph's grandson. Thanks to all of you who have been praying these years for us and the Children's home. We are starting to see the fruit of the labors that are not in vain. Continue to pray for their walk and growth in our Lord.

We are starting the Turkish meetings later in the evening now. It is such a blessing after your work is done to worship God with these people. We are tired, but after about the third hymn something seems to come alive and we start to feel the reason we are here on this earth.

We have a poor Turkish lady in one of our meetings who has had a very hard life. She has lost at least one child because of the poverty she has been forced to live in. She is mostly rejected in the village and has found great comfort from the believers and the national pastor over the years. Some mean children in the village make fun of her and the other day they broke some of the windows out of her one room house. She was crying before the meeting because it is still cold over here at night. During the meeting the Lord began to move and she started to praise God in one of the hymns as it spoke of a home in heaven. I saw Jesus feel her with such power as it was made real to her of the place He has prepared for us in eternity. Praise God for the reality of our heavenly home and the privilege to take the truth to these poor people. It is real to them and they make it real to me. May God give us the strength to keep going while there is still time.

By your help we have been able to buy a new car that is assembled here in Romania. It is a reserve for the older van that is many times now having to be repaired. I am putting some money back every month to be able by another car or van so Jacob and I can drive and separate as needed to get to as many villages as we can. Right now I have two other villages that are calling for us to come, but with 7 large feeding centers, 15 weekly meetings and 4 national pastors, we have little or no reserve to get to them. Please pray for us!

I want to thank everyone for your help and don't want to separate anyone out for their gifts. God knows who you are and I know. I know it is a true sacrifice for many of you and the only peace I have is to say thank you and I love you and just have to trust that our God shall supply all your needs through Christ Jesus our Lord.

May God richly bless and keep you until we see each other again is my prayer.

From Romania, Nathan Reed and Family


"Finally, brethren, pray for us, that the word of the Lord may have free course and be glorified, even as it is with you." 2 Thessalonians 3:1

Support Address: Charity Baptist Missions c/o Nathan Reed P.O. Box 692 Bristol, Tn. 37621
Email: dadreedl5@yahoo.com
----------------------------------------------------------------------------------------------------------------------------
Dear Brothers and Sisters in Christ, January 11, 2013

We are well and very thankful to have another year to worship and serve our Lord and His church in Romania. It has been a very trying year, but once again our Savior was kind and faithful.

It has been a blessing to see our children and the children God has entrusted to us grow physically in the knowledge of his love and peace. These are the true riches and the only fruitful knowledge of benefit.

Jacob has been such a blessing in the meetings and feeding centers. He is always there to help carry the burdens that come with the ministry. Rachel is growing into a really beautiful young lady. I just keep praying she will be as beautiful inside as see is becoming on the outside. Little Nate will be eight months on the 25th of January. I had forgotten how much work a little baby can be, but the joy he brings far outweighs the so called work it takes to take care of him. I truly believe he helps us more then we help him.

Teresa and I appreciate all three of the children God has given, plus the eleven in the children's home with the over four hundred in the villages. All have a special place in our hearts. It is amazing how the Lord can make our hearts bigger and bigger as we walk with him in this world. Twenty some years ago I only had enough room in my heart for me and sometimes a few others, but the longer we let Jesus be Lord, he has great power to lead us into a large room full of wonderful riches. We are able to forget about ourselves and the operation of a heart enlargement begins. My prayer for the New Year is for the Lord to open our eyes and enlarge our hearts to do more this year than last.

Thank you so much for the money to buy children's Christmas packets this year. We were able to do around four hundred and fifty. Many of the children had never received anything for Christmas ever. We were only able to give a couple pieces of fruit some cookies and some Christmas candy, but you would have thought we had given them a piece of gold. Maybe we can do more next year. It was a real encouragement to them and to us. The words of Paul come to my mind," ... remember the words of the Lord Jesus, how he said, It is more blessed to give than to receive.". Acts 20:35.

May God reveal his blessings more and more and enlarge our faith and love to do all we can this year! Thank you all.

From Romania, Nathan Reed and family.

"Finally, brethren that the word of the Lord may have free course and be glorified, even as it is with you." 2 Thessalonians 3:1

Support Address: Charity Baptist Missions c/o Nathan Reed P.O. Box 692 Bristol, Tn. 37621

Email: dadreed15@yahoo.com

----------------------------------------------------------------------------------------------------------------------------
Dear Pastors, Churches and Friends, July 10, 2012
The work is going very good. I have 10 feeding centers and 15 weekly meetings now. In Constanta, we have a national pastor going to our main feeding center almost every day. The children are on their summer vacation and the feeding centers are full and alive. The children are learning the hymns and the Bible, but most of all they are learning to pray. I really enjoy hearing these little children just talk to their heavenly Father by faith.
One of my pastors is staying in a place where I pay his rent every month. The land lord has become a believer and with a little help has built a church building for us to meet in. It is so wonderful to have a new building that no one has ever used set aside for the meeting. The Lord is really blessing as one of this pastor's sons has returned home and is now seeking the Lord.
We also have a couple new meetings in the villages. Just two days ago, a woman came into my meeting and she was so excited about us being there. She said to one of the children, "Why didn't you tell me they were here?" We had gone to her house about month ago and prayed for her little 7 year old daughter. The daughter's hair was falling out and she didn't understand why. The mother had already lost a child and was terrified of losing her daughter. She had also that day lost two hundred euro's. She began to tell me how her little girl's health is fine now and that two days after we prayed a woman came to her with the money. She begged us to come to her house again and have a meeting. Every week God is helping these people to see he is real.
We really need the churches prayers for another van. I know it seems to be the only thing I ask for, but it is the main tool of a missionary. I must have a way to get the pastors and food to the villages and I am doing this every day. Our vans and cars wear out fast over here because of the amount of travel and the conditions of the roads. If we buy a car or van that is over 10 years old, it is very difficult to get it inspected buy the road police. Europe is very different then America in these things. I have a fund set aside now just for this purpose. Our Missions church gave us $2,400 to start it out. Thank God it is a start.
This year we were told by the police that Romania is no longer giving humanitarian visa. I was forced to start a business here in Romania to obtain my residence visa. I started a printing business called," World Wide Ambassador Printing and Marketing". I hope to use this act of faith to help us stay here and maybe over the years to start a printing work. It was very difficult and expensive to arrange all the paper work and licenses here. The police gave me and my family one year. I must try and generate some kind of work to show activity. Please pray for us because I must stay here. I believe this is another way the devil is trying to hinder us, but we trust our Lord will turn it around and give us another way to get the gospel out.
We really have a burden to print some of the Turkish Bibles. We need to show it on my business! I really need to buy a good copy machine and other pieces of equipment. I could copy the hymn books and Turkish Bibles and could also print some tracks or however the Lord leads.
I have started a fund for the business as well. A good copy machine starts out around $5,000 dollars. So you can see my burden, but the dollar is the best I have ever seen against the euro. We can save thousands of dollars right now! I believe this also is of the Lord.
Thank you for all that you do and may God richly bless you and yours is my prayer. From Romania, Nathan Reed and Family
"Finally, brethren, pray for us, that the word of the Lord may have free course and be glorified, even as it is with you."
2 Thessalonians 3:1
Support Address: Charity Baptist Missions c/o Nathan Reed P.O. Box 692 Bristol, Tn. 37621 Email: dadreedl5@vahoo.com or Call us free: 828-490-4202
----------------------------------------------------------------------------------------------------------------------------
Dear Brothers and Sisters in Christ,
November 22, 2011
Today is the day we celebrate twenty one years of my call from the Lord to preach his word and would like to thank the Lord for all of his blessings upon us. I had no idea of the Lord's plans for my life, but only ask for his help. Right after my surrender I ask my sister to call her friend Teresa to have Thanksgiving dinner with our family. I didn't know it then, but I know it now; that the Lord gave me my call to preach and my help meet on the same day. We have been married twenty years this past June and our Lord has given us another blessing. We found out that my wife is pregnant with a boy and is supposed to deliver in May.
Teresa, little Nate, Jacob and Rachel returned to Romania in October. I have been going to meetings the Lord has opened up. I have just returned to the United States from a trip with 36 members of New Manna Baptist Church. The trip lasted for seven days. It was a quick trip, but the Lord blessed.
Many members of New Manna were deeply touched at the villages. They left only with the clothes on their backs and the rest of their clothes they left for the poor believers to have. The men and women were so moved by the love and affection of the poor children in the feeding centers. They said they couldn't believe how they would rub their arms and want to set in their laps. Some of the Americans were so moved, they gave the children the rings on their hands. The Turks kept thanking them for sending us over, because they had been pulled out of great darkness into a wonderful light. The Americans testified of how they believed they were coming over to help the Turkish believers, but they were shocked and helped by them. They seemed to have nothing at all, but were still praising and thanking God because now they knew they were saved and going to heaven. I know both Americans and Turks were helped and encouraged by each other. We as Americans need to see how good God has been to us and the Turks needed to see that they had not left everything they know for nothing. When these rich Americans came into their humble homes, it was like Jesus coming in and setting down with them. They were encouraged and they see it was worth it to endure their Muslim neighbors mocking.
We went to the Turkish meetings doing the morning and at night we were able to have English services at the children's home. The other missionaries from Bulgaria were able to come up and we had a blessed time. The last night of the services the Lord gave us a special blessing. The New Manna group got up to testify and the Holy Spirit began to move on all of the children in our home. Many started to go to the altar and after some time Meli wanted to testify and professed that the Lord had saved her. The Holy Spirit had been working with her for a while and what a wonderful time for her and the Lord to become one. What wonderful faith and hope the Lord gave to us all that night. Praise the Lord for his blessings to us.
I will be returning to Romania before Christmas to join my family and continue with the work the Lord has called us to do. We still covet your prayers about our support and if you know of anyone who may be interested in supporting our work, please contact me.
I would like to thank you all for your faithful support and prayers that has taken us through another year. May God richly bless you over the Holidays and may our Lord keep us in His perfect will until we see each other again.
From North Carolina, Nathan Reed
"Finally, brethren, pray for us, that the word of the Lord may have free course and be glorified, even as it is with you." 2 Thessalonians 3:1
Support Address: Charity Baptist Missions c/o Nathan Reed P.O. Box 692 Bristol, Tn. 37621 Email: dadreed15@yahoo.com
---------------------------------------------------------------------------------------------------------------------------------------------------------------------
Dear Brothers and Sisters in Christ, Feb. 28th 2010
Thankfully we are writing to you and everything is going well. We have a return date at the end of April. The Lord has done many things so far.
He has helped us raise 500 hundred dollars more a month for the national pastors in Bulgaria. When leaving Romania, the Senior Missionary spoke to me about his desire to raise more monthly support for the ten national pastors who help him take care of the over 80 monthly meetings. This will give the men 50 dollars more a month. We are so thankful to be able to help these faithful men and join in the fight to take the gospel to their poor villages. We have watched and prayed for most of these men and seen many of their persecutions and burdens since becoming believers. Their faith in Christ and his Church has brought them through many battles. I rejoice in the fact that through your faithfulness and sacrifices, we are able to extend our arm to help them have a larger part in this blessed work and their families well being.
Also the winter has been severe in Romania and Bulgaria this year. I myself ran out of wood and it helped wake me up to see and feel the need of the people I love and minister to in Romania. I wrote to Dave and ask him about it. He told me that in a nearby village an older woman had frozen to death because of not having wood and a lot of people were chopping up their furniture and burning old clothes to stay warm. I spoke to him about my burden and ask if any wood was available. Within two days they were able to locate a truck from the Ukraine. They were able to deliver 1 ton of wood to every one of the fifteen places where we have churches and feeding centers. Thankful for the ones that helped us pay for the wood and please don't forget we will have to do this at least one more time before winter is over. Just let your fire burn out for a couple of hours and as you rebuild your fire, think of those poor children being able to come into a warm place and feel the warmth of the woodstove and hot meal. Oh if you could just hear the little voices sing the praises of God and thanks to His Church for their small sacrifices.
The Lord has opened many new doors since we have returned. New churches have asked us to come. We need more monthly support. We are praying that in the two months we have left here in America, more will help us on a monthly basis. God has given us 200 dollars more monthly support for Romania. We are so thankful for this, but are still asking God to really use us in the months ahead to raise three times that. Please join us in prayer and we will let you know how it goes before we leave in April.
Yours for Christ, Nathan Reed and Family
---------------------------------------------------------------------------------------------------------------------------------------------------------------------
Dear Brothers and Sister in Christ, November 13 2009
Greetings from Romania. I apologize for the delay in sending a prayer letter. The summer months have kept us so busy I haven't been able to find the time until now. I want to start by saying that we Praise the Lord for His goodness and provisions. We have seen the Lord provide for us to go to these meetings this summer as the gas prices have risen to $8.50 a gallon and food prices have tripled. We have seen God do great and mighty things.
The believers here are growing stronger everyday in the Lord. We are always amazed at how God is helping the believers as they come together in these towns and villages. They sing the hymns with power and pray in faith to their Father in heaven and He always sends the victory in one way or the other. Another blessing is during the summer months I have been able to take the children from the children's home to these meetings with me. They also have seen God working among their own people and they are starting to speak Turkish, their native tongue. They have gotten close to the believers, many of whom are their relatives, and they are being prayed for in every meeting they go too. We now have fifteen meetings a week were I go everyday.
There is a town called Megidia where we have had a meeting for around eleven years now. It is stable and people in the town know where the believers' meeting is. A lady came two months ago and asked us to come to her house and pray for her husband. When the believers arrived they found a 35 year old man who had had a hemorrhage in his brain. He couldn't talk or lift his head and as they entered the house he wasn't able to see them. He started to cry as they sang the Turkish hymns. Before long everyone was crying and the Spirit started to move in a great way. After the hymns, they gathered around this poor man's bed and started to pray to God for him. We had been going to his house for two months to sing, pray, and help this family with very few results. The unbelieving neighbors laughed and mocked as we went in and out every week. I spoke to Ralph and told him about this man and the powerful services we had there every week. He said to just hold on to him! Praise be to God, He touched him. His wife said he began to speak and sat up and wanted his shoes so he could walk outside. The believers arrived the next day to find him sitting up and he greeted them with a handshake and a "Sukur." The unbelieving neighbors were amazed and many came to the meeting. One neighbor, who was a long time family enemy, sat through the whole meeting and after wards wanted to help the family with their electricity. We have continued to go to this family week after week and we've seen miracles in this man and his family.
In the town of Harsova, we have had a meeting for around seven years. Some unbelievers came against this meeting and wanted to run this man and his family out of town. He was forced to move to the city dunghill just outside of Constanta. He and his fourteen family members lived out in the weather with makeshift houses from garbage. We tried to help this man and his family through this trial. We had weekly meetings on this dunghill throughout the summer. God met with us in great power every time we gathered. I thank God for these believers and our Lord who is not ashamed to come down to this dunghill and meet with us every time we gathered. A relative from a near by town, came to this meeting on the dunghill. As the cars passed by, we worshiped and prayed and the relative wanted us to come to his town and have a meeting in his house. We now have been going to this man's house for two months now and have seen God bless this man's faith. The people staying at the dunghill have now been able to return to their village and we thank God for taking care of them and allowing us to be able to have meetings in their home again.
In August one of our Turkish pastors was injured in a car accident going home from a Turkish meeting one Monday afternoon. He broke his back and was in great pain. He had always been faithful to the meetings and has a wonderful spirit and preaches with much power. We prayed that God would heal this man and allow him to be able to come back to the meetings. I have gone to his house and had meetings there since the accident and this man praises God the whole time we are there and prays for me and the believers as we go to the meetings everyday. He is able to walk now and I can't wait to see him back in the meetings.
October 17th we began a three day Turkish meeting with believers coming up from Bulgaria. We were able to bring around sixty Turkish believers up from Bulgaria. With the Romanian Turkish believers we had around one hundred together here on the grounds of the children's home. Bro. Ralph had always wanted to have a Turkish camp-meeting and we saw it come to pass. To experience the fruit of the Spirit in these believers as these two countries came together was more then words can say. To hear their testimonies of the last fifteen years and to watch them cry and sing and praise the Lord was truly heavenly. The meetings ran way into the morning hours and many would stay up all night singing and testifying and praying. Many of the believers here in Romania had never experienced this kind of power and were changed forever.
October 29th begins our English Camp-meeting. All the missionaries from Bulgaria will come to the children's home where we will have meetings in the morning and at night. All the missionaries look forward to these meetings. It is a time of fellowship with each other and to be able to hear preaching, singing, and praying in our own language. In the English Camp-meeting this past July the Holy Spirit touched many of the children here in the home and saved two of the missionary children. It would come in waves and the children of the home and many others would just begin to weep. The little children didn't understand why they were crying, but we knew that the Lord was working in a mighty way. As I watched the Spirit touch these little ones I could not help but believe and rejoice as He was calling the next generation of laborers to work in His fields. Praise be to our Lord and Saviour Jesus Christ for ever and ever. Amen
Thank you all for your faithful prayers and support of this ministry. From Romania Nathan Reed and family.
---------------------------------------------------------------------------------------------------------------------------------------------------------------------
Dear Brothers and Sisters in Christ, June 2009
Greetings once again from my family here at the home and all the believers in Romania. The meetings are going very good and the Holy Spirit is moving mightily, especially with the young people. The children are now out for summer vacation and the children here in the home are now able to travel with me to most of the nineteen weekly meetings. It is a blessing to watch the Holy Spirit move and reveal His work with these poor village people as we sing, pray and preach to these that face some of the most horrible situations imaginable.
This year we have helped one make the crossing into heaven and seen many find great victory and deliverance by the quickening of their spirits through finding God's faithfulness and love by Jesus Christ. It always amazes me to hear one of the little ones say, "daddy, are we going to the sick women's house today?" I would reply, "No, she went to heaven to be with Jesus, but we are going to the sick man's house and he is getting better". I am blessed to see both grow together in faith and knowledge of God's hand.
I have eight young Turkish people who travel with me to most of the meetings. They have all been raised on the bread and food of our feeding centers most or all of their lives. In many ways their faith is purer and stronger then some of the older believers, because they have only been under our teachings in the meetings and are educated so they can read the hymns and Bible. Two of the young men are preaching and leading the hymns in some of the meetings with me each day. Please continue to pray for all of the youth's faith and spiritual growths.
One of the young men's name is Kemal. He is twenty six and has a wife and two little girls. Kemal's father and mother were some of the first believers who started coming to our morning prayer meetings now over thirteen years. Kemal's father, Amet, was an alcoholic. His mother, Ati, started to come to our morning prayer meetings over ten years now. Amet was against her coming, but they needed the three loaves of bread we give out to each believer everyday to help feed their nine children. Ati quickly became strong in faith and soon saw the power of praying in the name of Jesus. She returned home one afternoon and found her husband at home and hungry. He wanted some food and there wasn't much. He started to talk very badly to her so she closed the door and got down on her knees with her hands out and started to pray out loud to her new found Lord. He got up and walked over to the fire and plucked out a hot coal and placed it into her hand and said something like this, "this is all your god is going to give you. "She was burned, but it only made her heart burn more to see him become a believer. She started to request prayer for him and her situation at home. Soon Amet found himself drunk, out in the dead of winter, passed out on the street. Ati found herself out in the cold looking and worried about his safety. She took a blanket and laid down beside him until morning. Amet found himself going to a meeting with her not long after that and also became a believer. Now he stands and testifies of how the Lord has delivered him from drinking and for over ten years he only drinks from God's fountain.
Kemal's wife's grandfather and grandmother were also won through a prayer meeting in another part of town. The grandfather, Ali, is one of our national pastors and he and his wife have had a church and feeding center in their house and traveled with us to most meetings for over ten years now. Ali's wife, Aisha, is now dying with cancer. She will not last the summer unless the Lord does a miracle. They are both glad they have served the Lord these years. Ali stood in the meeting in his house and testified at how Aisha was going to the meeting just down the road every morning and could see a change in her. He was very jealous of her and didn't want her to go, but they also needed the bread to feed there four children. She would ask him to go, but he was so proud he wouldn't go. He use to go to the train station to sell bootlegged cigarettes every morning. One morning after his wife ask him to go he had a thought on his long walk to the station. He remembered, sometime before Aisha had started to get the bread every morning, they got up and had nothing to feed their children. He started to cry as his testified and said, "I looked at my children and said I can do with out, but I can't stand to see them hungry. These are my children". He left his house upset and started to pray for God to help him. He started back to his house and passed by some trash cans and there in a bag beside the cans was a bag that had four loaves of bread someone had left. He went to the meeting with his wife because he had remembered this. He reached the meeting and was afraid to go in, but found everyone so happy to see him, he sat down. When he heard the hymns he said it was like a warm tub of water had been poured on his soul. He has been a believer ever since. I can't even began to tell you the things they have gone through since that day, but I can tell you they know who Jesus Christ is. Please pray for them and his wife as we help her make the crossing.
Kemal has just this year really started to have a burden for his people. He is very musical and can start any of the hymns from memory and has a very good knowledge of the New Testament. After he was own the street for two days and two nights the Lord helped me to find him a place for him and his family to live and it has really put me back financially every month of this year. He has become a very big help to me and we are gone sometimes ten hours a day trying to supply the needs of his people. Please pray I can supply all his needs financially so we together can supply the spiritual needs of these people.
I must ask of you one more thing. As I was writing this prayer letter to you I received a phone call informing me that our only van was in a accident today. It is still drivable, but will need some repair in the rear end. It is my only way of getting the food and believers to the feeding centers and meetings weekly. I have received some help for a new one, but still need some more money. I spoke about this in my last prayer letter and I thank you, the ones who have responded. I know it is no mistake it happen now as I was writing to you and I pray to you and my God for help. I don't know what else to say.
May God richly bless you is my prayer. From Romania. Nathan Reed
---------------------------------------------------------------------------------------------------------------------------------------------------------------------
Dear Brothers and Sisters in Christ, July 2002
We Pray this finds you well and trust you are having a good camp meeting. We have had a blessed day and want to thank the Lord for all his blessings over here. Last night, Teresa and I stayed with a young man who is dying. He is eighteen years old, but because of his sickness he only looks like he is eight or nine. His mother and father are both dead and has only one sister who is very poor. At one of the courtyards where we have a church we have fixed him a room to stay in until he dies. His sister told me last night that she only has two beds in her house to sleep ten people. Every time he would come to stay with her he always had to sleep on the floor and she didn't believe he had ever had a bed of his own. Even in the hospital he had to share a room with four other men and every time I went to see him he would cry because he didn't want to die there with cold strangers. I thank God we have been able to provide a room and a nice bed for him die on. It was truly a blessing to see everyone come together to take care of this orphan boy. Today, Tracy Blalock cut his hair and he was so weak he could hardly hold his head up from all the blood he is losing and infection he has in his body. Unless God touches him he will die soon, so please remember him when you pray. I will leave after I write this letter and stay the night with him and the other believers.
We had a very good meeting in the village tonight. Before we left I was able to hold the newest addition to the children's home, one week old Niki. She is so small, but beautiful. She has more hair than I do, but that's not saying much anymore. Keith told me on the way to the meeting her mother is a prostitute and it made him mad when she brought her to the van and just handed her to them and turned around like it was nothing. Truly these babies would have no other place in this world without the New Children's Home. We now have six and are expecting two more new babies anytime. Please pray for this mighty work.
I thank God for the meeting tonight. Everyone seemed to be tied upon arrival, but once we got to singing the Holy Spirit took over. People started to cry as God moved on his children in that little room. We had our first prayer and it was very strong. Then the people were given a chance to give testimonies. Many testified. The woman of the house testified of how thankful she was for the first time she came to the meeting. She didn't want to come, but was very curious. She listened to the hymns and her heart began to hurt and when the believers prayed it was like a bird came and took her fear away. She is so thankful to have the church in her house and when we leave the meeting she can only stand at the gate with wide eyes waiting for our return. Then one of the young ladies who is taking care of the dying boy stood and weeping praised God that there is a place like heaven where this poor boy can go to when he dies. He has had nothing but pain and trouble all his life, but soon it will all end and he will finally be at rest. Then another one of the teens stood to thank God for all he is able to do when you pray. She feeds 25 to 30 children a day and was having problems with some of the neighbors. She went into her house and got down on her knees and prayed to her Heavenly Father for help. Not long after I came around to give out the food for that week. Then without me knowing anything about what she had done, I began to preach to all of them to not forsake the house of God. That God only wanted us to come and meet together and thank Him for the things he had given us. She testified of how this had taken care of the problem and there was no way I could have known. I told her to keep praying for me!
Then a lady from Joe's meeting stood and testified of how her husband use to get drunk and want to beat her for going to the meetings. He wouldn't help her with anything and he didn't care if she and the children starved to death. She prayed for him and he became a believer. He was there and not only him, but also two of his sons and you just can't believe what God has done for this family. The husband testified and confirmed that everything that his wife had told was the truth and that he found that when he prayed there was a strength that came and now his whole family are believers. They feed 35 - 40 children everyday. Brother Keith Blalock stood and told them that when he had left for the meeting he was filling really sick and weak, but the Lord had helped him in the meeting. He has been fasting for three days because there was only $380 that had come in for the running of the children's home this month. Please pray about this. Then one of our national pastors preached about one of the hymns that is in the Turkish hymn book. It is from 1 Cor.13. on charity. It was great. We then sang the song and before it was over just about everyone in the room was up on their feet with hands in the air singing praises to the Heavenly Father. It was one of those services where you didn't want to leave. They sang after the service and all the way back to Constanta. Well we thank God for what he is doing over here and for you the faithful ones who support us through your prayers. May God Richly Bless You.
Because of Calvary, Nathan, Teresa, Jacob & Rachel Reed

And now abideth faith, hope, charity, these three; but the greatest of these is charity". 1 Cor. 13:13